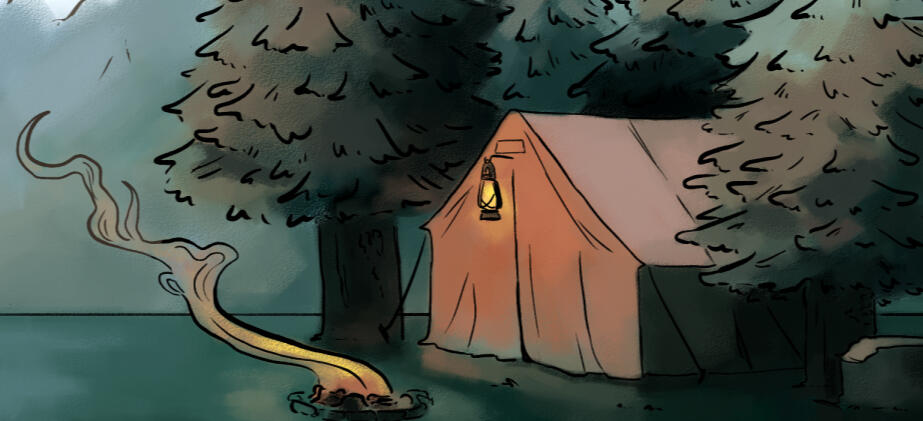 RAIN CHECK ZINE
A DND-LGBT Zine about seeking shelter and love.
Exclusively ran and produced by LGBT PoC.
ABOUT
Rain Check is a digital zine focused on the moment of respite before venturing out into the unknown world of DnD; shelter is the theming but that does not limit the location to the indoors.

We're looking to push background design skills in order to emphasize environment for both visual and written art. Developing the setting attributes to more personal stories, and we want to celebrate that characterization!
PRODUCT QUESTIONS
Q. Will there be a physical book/merch?
A. If there is enough interest for it then there will be physical goods.

Q. What compensation will the contributors be receiving?
A. If our sales hold up, all contributors and mods will receive one full package of the zine, and another package at production price (shipping included)! If however, we do not make enough to treat our participants, all digital merch will be free.

Q. For charity or for-profit?
A. This is Champ's first and Rossie's second time modding, we do not feel capable enough to run a for-profit zine. That being said Rain Check Zine will be for charity and the proceeds will be going towards BLM freedom funds.
CONTENT
Q. Who can apply?
A. You can apply for mod and contributor positions if you are both LGBT and PoC, however you may still buy the zine after it's released if you don't fit into that criteria.

Q. What is BIPOC?
A. BIPOC stands for Black, Indigenous, and People of Color. For more information on the term, visit the BIPOC Project site.
Edit (August 20): We've decided to rebrand this zine to PoC instead of BIPOC. Our decision comes from a better understanding of both terms; we encourage you to look through this post for details as to why we think this is a more responsible choice.

Q. Why exclude cishet white people from the mod team/contributors?
A. DND is racist, from racially coding races as bad (see Orcs), to being profiled for just existing (Tieflings and Drow), and mystifying East/South Asian cultures (base monk classes). We are choosing to exclude cishet white people to reclaim fantasy and dnd as something we as PoC can enjoy without ridicule.

Q. Can I draw characters from TAZ, CR, DNDaddies etc?
A. Established intellectual properties are prohibited from this zine, this includes AUs of said properties as well. The characters you depict in this zine may not be real people and celebrities.

Q. Can my ocs originally be fan characters from other series?
A. Yes. just as long as they are tailored to fit the DND universe that is fine.

Q. What will be the age rating for this zine?
A. DND is a game played by people of all ages, so this zine is also for all ages, we will be using the American Motion Picture Rating System of PG-13 as a guide to what is and isn't allowed.

Q. Do artists retain the rights to their piece(s)?
A. Absolutely! Your art helped this project come to fruition and it is your creation. We hold no rights over your piece.
APPLICATIONS
Q. Will this be writer friendly?
A. Yes.

Q. Can traditional artists apply?
A. Yes. We ask that all exemplar pieces be scanned at 300dpi to be viewed at its best quality.

Q. Is there an age limit?
A. You can be any age to apply
ZINE SPECS AND SCHEDULE
ZINE SPECS
A4 portrait
3 page max for comics
Poems are to be 2 pages max
Prose up to 4k words, writers can do 2 stories
SCHEDULE
July 26th | Interest Survey Opens
July 31st | Mod Apps Open
August 8th | Interest Survey Closes
August 17th | Mod Apps Close
August 23rd | Decisions Sent
September 1st | Contributor Apps Open
September 28th | Contributor Apps Close
October 2nd | Decisions Sent
October 5th | Due Date for Spot Claim
October 9th | Production Period Begins
October 23rd | Check-in 1
November 13th | Check-in 2
November 27th | Check-in 3
December 18th | Finals Due
January 8 | (Projected) Pre-Orders open
February 19 | (Projected) Pre-Orders close
RULES AND REGULATIONS
SFW: Please keep everything PG-13.

Triggers: Possible triggering content must be within spoiler marks and preceded by a warning. (If you need help with this function on Discord, please ask us!)

Server Organization: Please keep the Discord server organized by adhering to the structure referenced in the #server-guide channel! Any discussions unrelated to any channel will be deleted.

Sharing Art/Writing: Any ones that are unsourced will be removed from the server. Thus, sources such as Pinterest is not allowed.

Ships: Ships from other fandoms are okay. Fighting, pedophilic relationships and/or non-consensual relationship depictions will also not tolerated.

Harassment and Discrimination: No racism, homophobia, transphobia, transmisogyny (such as, but not limited to TERFs), ableism, etc. As an extension of that, slurs and hate symbols are banned (e.g. swastikas, twin lightning bolts, etc). We politely ask you to avoid Q*eer in this zine's space.

Religion, Politics, and other Controversial Topics: We ask everyone - please refrain from talking in length about such topics.

Personal Disputes/Issues: This should be discussed through DMs. If this cannot be solved, DM a mod to look for possible solutions.

Talk to the Dungeon Masters: If you find anyone breaking these rules, or if you are feeling unsafe in any way, please DM the DM's at any time. We will deal with the situation the best to our abilities.
CONTACT
Have any questions? Please send us an ask or email us!
Follow our social media accounts below for more updates.